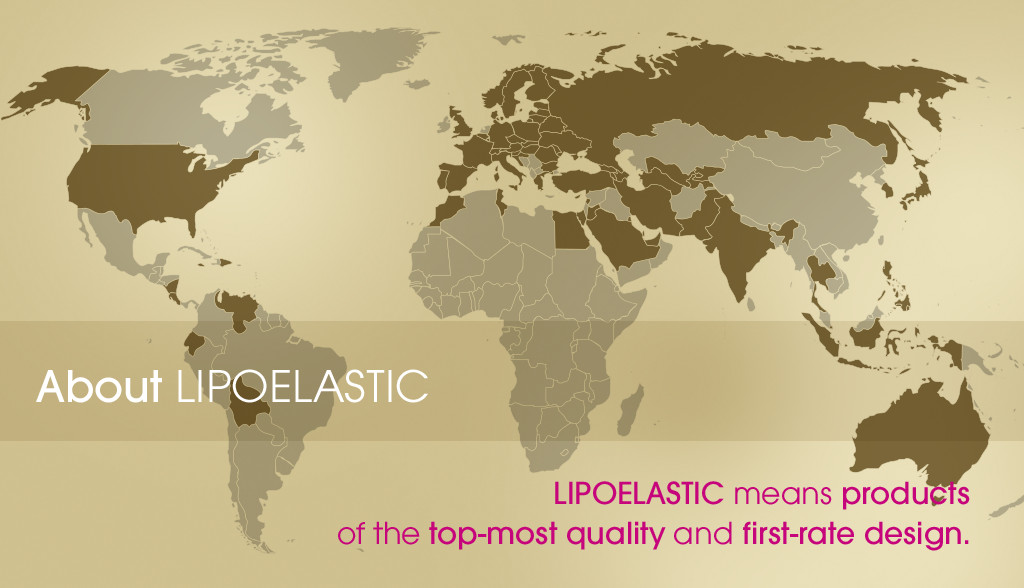 About LIPOELASTIC

About LIPOELASTIC

LIPOELASTIC has been a leading brand in the field of plastic and aesthetic surgery since 2002.
Top specialists, qualified employees and the overall facilities of the company LIPOELASTIC a.s. make possible the innovative development and production of compression garments. In over 70 countries, our popular garments are recommended to patients by their doctors with a clear conscience during post-operative care. That ranks LIPOELASTIC a.s. among the largest producers in the world and a leader in Europe.
In 2010 our product range was expanded with the production of support stockings. We, at LIPOELASTIC, are uncompromising when it comes to the quality of our products. The use of new and functional materials and the wide range of products, elegant designs and complete customer service has proven this to be the right stance to take. We distribute our stockings to dozens of countries on five different continents.
About Care & Cure
The proprietary firm was established in the year 2001 and started the Trading activity in a humble way. Care & Cure Inc has been established with the intention to specialize in Plastic, Reconstructive, Cosmetic Surgery besides Silicon Prosthesis and Hi-Tech, Modular Upper Limb Prostheses. The focus has been to make Care & Cure Inc as a "ONE STOP SHOP" for the above specialties.
Mr.S.Dhandapani has a Vision is to make the World Class quality products for the above specialties available in India.
Mr.S.Dhandapani is a Science Graduate from Madras University and began his Career in Pharmaceutical Marketing as a grass-root level Medical Service Representative in the year 1976 with M/s Ranbaxy Laboratories Ltd. Mr.S.Dhandapani has grown with the Company and has held various positions in Ranbaxy till 1994. During his tenure with Ranbaxy Mr.S.Dhandapani has Mastered the Skills in Professional Marketing of Pharma Products. He became an Entrepreneur in the year 1995 and started a company along with his friends, which pioneered the Manufacture and Distribution of Bovine Collagen. He has since decided to have his Independent business and started Care & Cure Inc in 2001.
Care & Cure Inc has been awarded the Exclusive Distribution Arrangements with the following World Class Companies.
LIPOELASTIC a.s. - Czech Republic for Liposuction Compressive Garments.
Microaire Surgical Instruments LLC-USA for Small Bone Power Instruments 5000 Series and Endoscopic Carpal and Cubital Tunnel Release System apart from Orthopaedic Specialities.
Tulip Medical Products- USA for Fat Harvest and Transfer Products as AUTHORIZED DISTRIBUTOR.
OTAGO HEALTH CARE-U.K FOR Davies Gold Dermatome and Mesher.
To compliment with Liposuction Segment, Care & Cure Inc distributes Infiltration System with Accessories along with Implosion Proof Canisters and Other Liposuction Equipment accessories from M.D. Resource Corporation-USA.
Excellent and Cost-Effective Aspirators Manufactured by CA-MI- Italy are distributed in India with Multiple Installations.
Thus Care & Cure Inc has been practically a ONE STOP SHOP for all the needs for Plastic and Cosmetic surgery implants and devices.
Hypertrophic scars and Keloid management with Silgel cream and sheets have been other successful areas of Care & Cure. MCP and PIP joints replacements with Silicon Implants of small bone innovations have been reality since 2007 and has been used extensively for Arthroplasty in various parts of india.
Aesthetics and Cosmetic has been our fascination and thus motivated to bring more and more products for this growing segment. Semi-Permanent Fillers like Esthelis-Hyaluronic Acid and Permanent Fillers like Aquamid-Polyacrylamide have been in good demand.
Silicone Breast Implants and Tissue Expansion Devices apart from Facial Implants from Nagor-U.K have been distributed for more than 15 years in India through Care & Cure.
World class PREP-RESISTANT Markers from Viscot Medical-USA is the latest addition.
Davies Gold Dermatome and Variable Expansion Mesher has been the Latest addition to our very specialized segment of Products.
Many more products of great utility in the segments of Plastic, Aesthetic and Cosmetic Surgery are continuously being considered to be brought to our country at cost effective prices.